March 14, 2022

JPELECTRONICS
Police shut down several streets and highway exits to the downtown area of Washington D.C. on Monday as hundreds of drivers from the "People's Convoy" protested the government's pandemic measures.
Demonstrations by the trucker convoy were reported on I-395, I-695 and 1-295 causing massive traffic jams. The Metropolitan Police Department closed the areas in order to keep traffic moving, but motorists should consider delaying travel, Alert DC posted on Twitter.
The "People's Convoy" is a group of truckers and other motorists protesting COVID-19 policies that made its way from California to Washington D.C. to protest the remaining mandates. The protests come at a time when state governments are already relaxing restrictions as cases continue to fall.
The convoy entered the city by Interstate 395 via the 14th Street bridge and continued onto 695 before crossing the Anacostia River. In order to reach downtown D.C., a driver would typically exit a variety of ramps off 395 or 695. Metropolitan Police closed the majority of off-ramps, forcing the convoy to drive east across the downtown area and back out to the Beltway. Now, drivers are experiencing a severe traffic delays.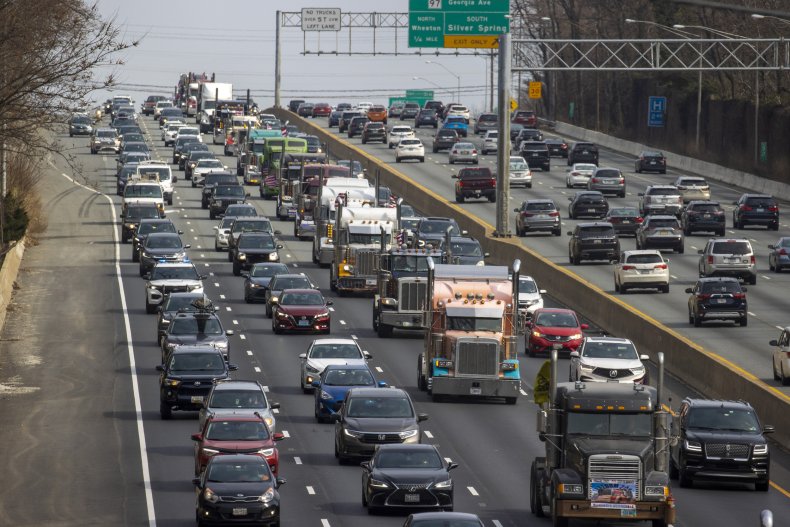 "These rolling road closures are occurring in real-time as they are needed, and will be lifted as soon as they are no longer necessary," Alert DC noted on Twitter.
Videos posted to social media showed heavy traffic jams with an immense backup of cars, SUVs and trucks moving at a crawl. Some areas on the highways were at a complete standstill while drivers blasted their horns. Police cars were seen parked on off-ramps to prevent others from getting off the road.
"In the District on I-395 and I-695, all eastbound ramps on the SE/SW Freeway to 14th St SW, 12th St SW, Maine Ave SW, 3rd St Tunnel, South Cap, and DC-295 N remain closed by MPD as trucks pass through," WTOP Traffic reporter Dave Dildine tweeted.
This is a developing story and will be updated when more information becomes available.
Update 03/14/22, 3:26 p.m. ET: This story was updated with additional information and background.